Best screen room for RV (Top 25 picks for camping)
The open road. The endless horizons. The great outdoors. That's why many of us invest in an RV in the first place. But while we love basking in the beauty of nature, we also cherish our comforts. And that's where the best screen room for RV comes into play.
The Desire for Extra Living Space: Why RV Owners are Investing in Screen Rooms
Who wouldn't want a little extra living space while on the road? RV awning screen rooms not only provide that, but they also bring the best of both worlds: the beauty of the great outdoors without its little annoyances.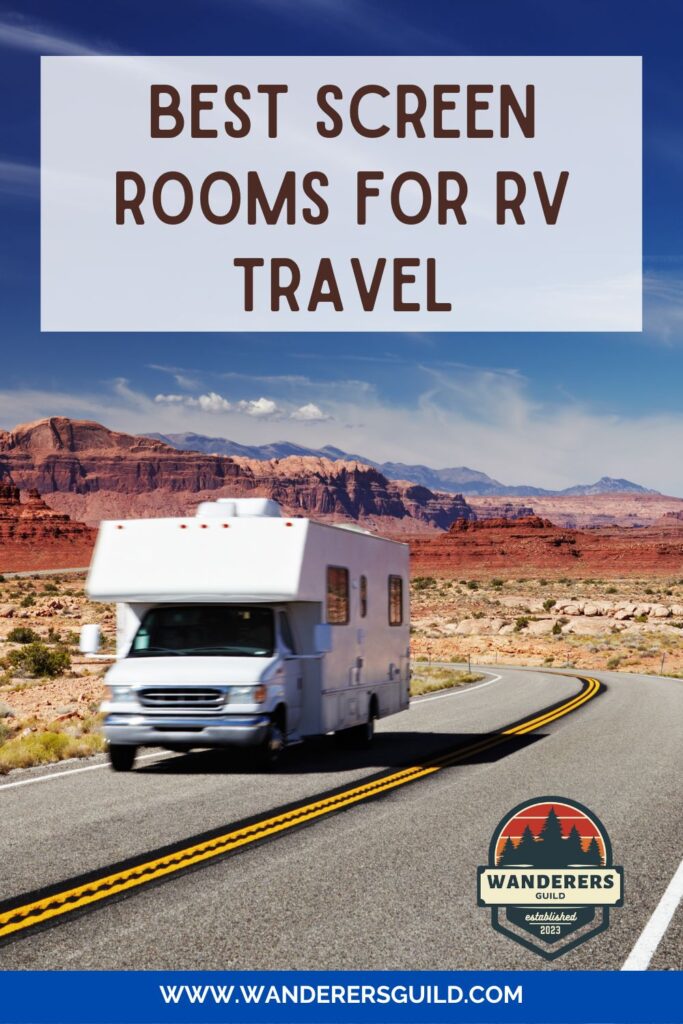 Understanding RV Awning Screen Rooms
What are RV Awning Screen Rooms?
RV awning screen rooms serve as vital additions to your recreational vehicle, acting as a bridge between the comforts of your RV and the beauty of the great outdoors. Here's a more detailed breakdown:
Extra Space for Relaxation and Storage:

Picnic Paradise: With the added square footage, you can comfortably fit a picnic table, giving you the luxury of outdoor dining without the dirt and dust. Whether it's a sunny brunch or a cozy evening snack, this space becomes the ideal dining spot.
Starry Retreat: Beyond dining, this space is a tranquil retreat. Lay back on a recliner, listen to the sounds of nature, and gaze up at the stars, all while being protected from the elements.

Protection from the Elements:

Guard Against Light Rain: While heavy downpours might send campers scampering, a light drizzle can be rather soothing. The screen room's material and structure offer a sheltered space to enjoy the pitter-patter of raindrops without getting wet.
Barrier Against Bugs: One of the most prominent perks of an RV awning screen room is the protection it offers against pesky insects. Whether it's the constant buzz of mosquitoes or the curious visits of flies, the mesh walls act as a deterrent, letting you enjoy your outdoor time bite-free.
In essence, RV awning screen rooms amplify the RVing experience, granting easy access to the charms of the great outdoors while providing the comforts we often miss when camping.
Top Picks: Best RV Screen Rooms and Screen Houses
Solera Family Room: A Versatile Room for Every RV Owner
Features:
Privacy panels to ensure a personal space.
Adequate floor area for those family gatherings.
Compatibility with power awnings for easy setup.
Alvantor Screen House Room: Instant Setup for the Modern Camper
Benefits:
Water-resistant roof for those unexpected showers.
Portable design that promises easy storage.
Protection from heavy rain, ensuring a cozy shelter.
VEVOR 10x10ft Camping Gazebo Screen Tent: A Blend of Luxury and Functionality
Highlights:
An excellent addition for any camping trip.
See-um mesh for that panoramic view without the bugs.
Innovative design that stands out at any campsite.
REI Co-op Screen House Shelter: Merging Durability with Style
Attributes:
A heavy-duty steel frame that stands firm against strong winds.
Generous peak height for comfortable movement.
A carry bag that simplifies transport and storage.
Factors to Consider When Choosing an RV Screen Room
Size and Compatibility: Meeting Specific Needs
When it comes to selecting the ideal RV awning screen room, the "one size fits all" approach simply doesn't cut it. The wide variety of RV sizes and models available demands a tailored fit for each. Let's delve into the significance of getting the size and compatibility spot on:
Tailored to Your RV's Dimensions:

Diverse Sizes for Diverse RVs: From compact trailers to expansive motorhomes, the spectrum of RVs is broad. Consequently, screen rooms come in a variety of dimensions to cater to this diversity. It's essential to match the screen room's size with your RV's specific measurements to ensure an optimal fit, functionality, and aesthetics.
Avoiding the Oversize/Undersize Trap: An oversized screen room can look sloppy and be cumbersome, while an undersized one might not provide the coverage or protection you need. Hence, precise measurements are paramount.

The Allure of Universal Fit:

Effortless Setup: A screen room designed with a universal fit in mind boasts adaptability. Such designs generally ensure compatibility with a broader range of RVs. The universal approach often simplifies the installation process, allowing RV owners to set up their screen rooms without much hassle or need for specialized tools.
Versatility Across RVs: If you ever decide to upgrade or change your RV, a universal fit screen room increases the likelihood that you can still use your current screen room, saving the cost and effort of purchasing a new one.
In essence, while the allure of a universal fit is undeniable, it's the precision of size that guarantees a seamless and snug fit. Making an informed choice based on your RV's specific needs ensures you reap the full benefits of your RV awning screen room. Always remember: when it comes to your RV, size and compatibility aren't just details, they're essentials!
Material and Durability: Investing in High Quality
In the world of RVing, the screen room isn't just an accessory; it's a protector, a shelter, and sometimes a much-needed retreat. As with any sanctuary, the strength of its walls and roof, metaphorically speaking, is of paramount importance. Let's dissect the necessity of prioritizing premium materials and the longevity they promise:
Battle-Ready Against the Elements:

From Drizzles to Downpours: While most screen rooms can handle a light sprinkle, investing in a high-quality room ensures protection even in torrential downpours. Materials that are not just water-resistant but waterproof can be the difference between a cozy shelter and a soggy mess.
Withstanding Windy Wrath: A calm day can swiftly turn into a gusty challenge. Premium RV screen rooms are built with materials that can withstand high winds, ensuring stability and preventing damage. The reinforced stitching, heavy-duty zippers, and robust support beams play a vital role in such conditions.

The Essence of Quality Materials:

Water-Resistance as a Standard: With camping, unpredictability is the only constant. A sudden shower can be around the corner, and having a water-resistant screen room ensures your space remains dry and comfortable. This feature is especially important if you're storing electronics or other items sensitive to moisture within the room.
The Heavy-Duty Difference: Beyond just being sturdy, heavy-duty materials are resistant to wear and tear. This translates to longer lifespans, better performance, and overall enhanced protection against external factors. Think of it as an armor that not only defends but does so for an extended period without faltering.
When you're out embracing the great outdoors, the elements won't always be in your favor. However, with a screen room crafted from the best materials, you're not just prepared but poised to face nature's curveballs head-on. It's a simple mantra: Invest in quality, and in turn, it invests in your peace of mind.
Benefits of Having an RV Awning Screen Room
The decision to invest in an RV awning screen room is like giving yourself a ticket to a better and more versatile camping experience. Let's dive deeper into some of its unparalleled benefits:
Breathe in the Freshness, Shield Out the Weather:

Uninterrupted Outdoor Plans: The unpredictability of weather can often put a damper on our outdoor endeavors. With an RV screen room, light rain or even a sudden gust of strong winds won't force you back inside. Enjoy the melody of raindrops or the coolness of a breeze, all while being snugly protected.
Sun Protection: Beyond just shielding against rain or wind, these screen rooms can also offer protection from harsh sun rays, letting you relax without the worry of sunburns.

Space, Space, and More Space:

Store More, Stress Less: Camping often comes with a plethora of items – from camping chairs to portable grills. The extra storage space provided by screen rooms ensures all your camping essentials have a spot, reducing clutter inside your RV.
Expandable Living Quarters: Beyond just storage, this space can be a makeshift living room, a play area for kids, or even a tranquil reading nook.

Nature's Neighbor with Easy Access:

Large and Convenient Doors: Most high-quality RV awning screen rooms are designed with large doors, ensuring not just easy entry and exit, but also unobstructed views of your surroundings. Be it a serene lakeside view, a majestic mountain range, or a dense forest, you're always just a zipper away.
Safety with Views: The mesh design, while keeping bugs at bay, doesn't obstruct the view. This means you can keep an eye on the kids playing outside or simply soak in the panoramic beauty, all from the comfort of your screen room.
To sum it up, an RV awning screen room is more than just an extension; it's an upgrade to your entire camping experience, blending the boundaries between indoor comfort and outdoor adventures.
Additional Features: Enhancing the Camping Experience
The core foundation of any RV awning screen room lies in its size, compatibility, and material quality. However, in the rapidly evolving world of RV accessories, it's the added features that set a product apart. These features can significantly amplify your camping experience, turning a simple outing into a luxurious retreat. Let's dissect some of these game-changers:
The Power of Grand Entrances:

Large Doors for Bigger Views and Easy Access: A sizeable entrance is more than just an access point. It offers an unobstructed view of your surroundings, allowing you to be part of the great outdoors even when you're inside. Whether you're moving in your picnic table or taking out your camping gear, a larger doorway ensures no unnecessary squeezing or maneuvering.
Bracing Against the Breeze: The windy conditions can be quite challenging. A larger door, especially when coupled with sturdy zippers and reinforced seams, can withstand gusts without flapping incessantly or causing structural disturbances. It's all about maintaining the sanctity of your space, regardless of the weather.

Functionality at Its Finest:

Storage Solutions for the Organized Camper: We all know that extra space is always a good thing. With integrated storage solutions, you can easily stow away camping essentials, toys, or even some midnight snacks. These compartments, pockets, or hooks can be a godsend, especially when trying to declutter and organize your camping space.
The Flexibility of Removable Floors: While having a floor can offer a clean and dry surface, especially during damp conditions, the option to remove it adds another layer of versatility. Need to feel the grass beneath your feet? Or perhaps, you spilled something and cleaning would be easier without the floor? A removable option gives you the best of both worlds.
In the grand scheme of things, it's these little enhancements that transform the camping narrative. A screen room can serve its basic purpose, but with these additional features, it transcends its basic utility, morphing into a haven that caters to every whim and fancy of the modern-day camper.
Enhancing the RV Experience with Additional Accessories
Picnic Tables: Enjoy Dining in the Great Outdoors Without the Dirt
Outdoor dining is an integral part of the camping experience. There's something uniquely invigorating about enjoying a meal amidst nature's backdrop. However, nobody truly relishes the idea of dust, sand, or mud tagging along with their sandwiches. Enter the humble picnic table, a camper's trusty ally in making outdoor meals a delightful experience:
The Charm of Alfresco Dining:

Elevated Experiences: Picnic tables raise your dining space off the ground, ensuring that while you're close to nature, your meal remains uncompromised by the elements beneath. No more battling with sand in your salads or mud under your meal.
A Touch of Civilization in the Wilderness: While camping is all about embracing the wild, there's no harm in adding a sprinkle of comfort. A picnic table allows you to organize your meals, set out a spread, and even light some candles for that impromptu romantic dinner under the stars.

Functional Beyond Just Food:

Multipurpose Use: Beyond meals, picnic tables serve as excellent platforms for board games, placing your camping lanterns, or just laying out your maps and planning the next day's adventure. Their utility extends far beyond just being a dining space.
Portable and Convenient: Modern picnic tables designed for campers are lightweight, foldable, and easy to transport. So, whether you're setting up near your RV or a little further away by the campfire, moving them around is a breeze.

Durability Meets Design:

Built for the Outdoors: These tables are constructed keeping in mind the challenges of the outdoors. From moisture-resistant coatings to sturdy frames, they're designed to withstand the occasional rain shower or the accidental beverage spill.
Styles Galore: Gone are the days when picnic tables were mere wooden slabs. Today, they come in various materials, designs, and even colors. Whether you're looking for a rustic wooden finish or a sleek metal design, there's a table to match every camper's aesthetic.
In essence, a picnic table is more than just a surface to place your food. It's a bridge between the rawness of nature and the comforts we're accustomed to. It elevates the camping experience, making meals memorable, convenient, and, most importantly, dirt-free.
Screened Canopy: An Extra Layer of Protection on Those Sunny Days
A screened canopy is like a forcefield in the camping world. It stands gallantly between you and the plethora of outdoor elements, ensuring your comfort isn't compromised. Let's delve deep into why a screened canopy is an indispensable asset on a sunny day:
The Sun: A Blessing and a Challenge:

Shade in the Sunlit Landscape: While sunbathing can be delightful, continuous exposure can get uncomfortable. A screened canopy provides that much-needed shade, ensuring you enjoy the sun without the risk of sunburns.
Ultraviolet (UV) Protection: Modern screened canopies often come with UV-resistant materials, shielding you from harmful UV rays. It's not just about comfort, but also health.

The Screened Advantage:

Pesky Bugs Beware: A day out can quickly turn sour with the constant buzz of mosquitoes or flies around your food. The screen acts as a barrier, ensuring you can enjoy your picnic without the uninvited guests.
Breathable Barrier: The mesh design ensures that while pests are kept out, the cool breeze isn't. It allows for air circulation, ensuring the interior remains fresh and breezy even under a scorching sun.

Versatility at Its Finest:

Adaptable to Conditions: Some advanced screened canopies come with features that allow you to adjust the amount of sunlight filtering through, letting you create the perfect ambiance.
Extending Your Living Space: They can serve as an extra living space, a makeshift dining room, or even a relaxation zone with lounge chairs and a book. It's your private haven right in the middle of the great outdoors.

Ease of Use and Durability:

Swift Setups: Most screened canopies in the market are designed for easy setups. They come with collapsible frames and clear instructions, ensuring you don't spend your valuable nature time grappling with poles and fabrics.
Weather-Resistant Materials: While they're perfect for sunny days, they're also designed to withstand light rain and strong winds. Quality materials ensure that your canopy remains steadfast and durable, trip after trip.
In summation, a screened canopy isn't just an accessory; it's an experience enhancer. Whether you're looking to relax, dine, or simply enjoy the scenery without the sun beating down on you, this gear promises a reprieve with a view. In the battle against the elements, it's your trusty shield, ensuring you always have the upper hand.
Pop-up Screen Tents: A Quick Shelter Solution When You're on the Move
Imagine being able to create a haven within minutes, right in the heart of nature. Pop-up screen tents, or instant screen house, are the epitome of convenience, blending portability with functionality. If you're an on-the-go adventurer, here's why you might want to make this piece of equipment a constant companion:
The Magic of Instant Setup:

Ready in a Jiffy: True to their name, pop-up screen tents virtually spring into shape. Forget about fumbling with tent poles or poring over complicated assembly instructions. With these, you're all set in mere minutes.
Minimal Effort, Maximum Reward: Their design focuses on ease, requiring little to no effort from your side. It's all about maximizing your leisure time in the great outdoors.

Tailor-Made for Travelers:

Light as a Feather: Pop-up tents are designed keeping the traveler in mind. They're light weight, making them easy to carry, whether you're hiking up a mountain or trekking through a forest.
Compact When Collapsed: Despite their spacious interiors when set up, these tents are marvelously compact when folded down. They won't hog space in your backpack or RV.

Protection and Comfort:

Barrier Against Bugs: With mesh walls, these tents offer a panoramic view of your surroundings while keeping the pesky bugs at bay. Enjoy nature's sights without its tiny bites.
Shelter from the Elements: Be it the scorching sun, unexpected rain showers, or gusty winds, the pop-up screen tent stands as a protective shield. It ensures your outdoor experiences remain pleasurable, no matter what Mother Nature throws your way.

Versatile Ventures:

Beyond Just Camping: While they're an excellent choice for campers, their utility isn't limited. Think beach outings, picnics in the park, or even backyard barbecues. Any event can benefit from a quick-setup shelter.
Customizable Comfort: Some pop-up screen tents come with removable floors, allowing you to choose between lounging on the grass or having a clean, dedicated floor space.

Built for the Outdoors:

Sturdy and Durable: Materials used are typically robust and designed to last. Reinforced corners, durable mesh, and weather-resistant coatings ensure your tent stands tall through many adventures.
Safety Features: Reflective guylines, wind-resistant designs, and ground stakes provide stability, ensuring your tent remains grounded in windy conditions.
In conclusion, pop-up screen tents are all about spontaneity and comfort. They cater to the spirit of adventure that doesn't want to be bogged down by lengthy setups or cumbersome equipment. With one in your arsenal, you're always ready for an impromptu rendezvous with nature, ensuring you're sheltered, comfortable, and ever-ready to embrace what lies ahead.
Practical Tips for RV Owners
Embarking on an RV adventure is exhilarating, but without the right preparation and knowledge, some unexpected challenges can pop up. Ensuring you're well-equipped and informed can make all the difference. Let's delve into some actionable insights for common RV scenarios:
---
Setting Up in Windy Conditions: Opt for a Steel Frame for That Added Stability
Windy conditions can be a bane for campers. Here's how to ensure your setup remains steadfast amidst the gusts of inclement weather:
Why Steel? Steel frames are known for their strength and rigidity. They offer superior resistance against bending or warping, especially when pitted against strong winds.
Anchoring is Key: Apart from a robust frame, using heavy-duty stakes and guylines can secure your setup firmly to the ground, minimizing any shake or wobble.
Positioning Matters: If possible, set up your RV and attachments facing away from the direction of prevailing winds. Using natural barriers like hills or trees as windbreaks can also be beneficial.
---
Maximizing Floor Area: Plan Your Layout to Make the Most of Every Square Foot
Space is a precious commodity in an RV. Here's how to make every inch count:
De-Clutter: Start by only bringing essentials. The fewer items you have, the easier it is to organize and maximize space.
Modular Furniture: Invest in foldable or multi-purpose furniture. Items that can transform or be stored away easily can free up a significant amount of space.
Vertical Space: Walls aren't just for decor. Use wall-mounted racks, hooks, and magnetic strips to store items upwards rather than outwards.
---
Preparing for Cold Weather: Layer Up and Insulate to Stay Warm and Cozy
Chilly nights can sneak up on you. Stay prepared with these tips:
Insulation is King: Ensure your RV has adequate insulation. Foam board or thermal curtains can add an extra layer of protection against the cold.
Warm Bedding: Opt for flannel sheets, down comforters, and thermal blankets. They trap heat efficiently, ensuring your bed remains toasty.
Dress in Layers: Instead of one thick layer, wear multiple thin ones. This traps air between layers, providing better insulation. Plus, you can easily add or remove layers as the temperature changes.
---
Ensuring Easy Storage: Make the Most of Carry Bags and Smart Storage Solutions
Storage can be tricky, but with a little ingenuity, you can find a place for everything:
Use Carry Bags: Many camping gear and accessories come with their own carry bags. These are not just for transportation but also for organized storage. They're typically designed to be compact and space-saving.
Under Furniture: Make the most of the space under beds, couches, and seats. Storage boxes or pull-out drawers can keep items accessible yet out of sight.
Ceiling Nets & Overhead Compartments: These can hold lightweight items, ensuring floor space isn't cluttered.
---
In the grand adventure of RVing, these practical insights serve as your compass, guiding you through common challenges, ensuring that your journey remains smooth, enjoyable, and memorable. Remember, it's not just about reaching your destination, but also about relishing every moment of the journey.
Key Takeaways
Journeying through the world of RV adventures can be exhilarating, and as with any adventure, being well-equipped is key. Here's a distilled essence of our insights on RV awning screen rooms and how they can amplify your RVing escapades:
---
RV Awning Screen Rooms: More Than Just an Accessory
Amplified Camping Experience: RV awning screen rooms aren't just add-ons; they redefine the camping experience. They offer the luxury of additional space, allowing you to stretch out, relax, or store those camping essentials that don't fit inside the RV.
A Sanctuary from the Elements: Whether it's pesky bugs that buzz around your ear or an unexpected sprinkle of rain, these screen rooms act as your protective shield, ensuring your outdoor moments remain undisturbed.
---
Quality Over Everything
The Best in the Market: While many options flood the market, brands like the Solera Family Room or the Nemo Victory Screenhouse stand out not just for their name but for the quality and functionality they bring to the table.
Experience the Difference: It's not about just having an accessory; it's about having the right one. The difference between a generic screen room and a top-tier one can be felt every moment you spend inside it.
---
Fit & Fabric: The Twin Pillars of Selection
Compatibility is Key: Before diving into the aesthetics and features, ensure the screen room aligns perfectly with your RV's dimensions. It's like finding the right puzzle piece – a perfect fit enhances stability and functionality.
Material Matters: Your screen room will face the brunt of nature. From strong winds to heavy rain, choosing durable and water-resistant materials can be the difference between a sanctuary and a sodden mess.
---
Elevate the Experience: It's All in the Accessories
Picnic Tables: Transform your screen room into a dining haven. Enjoy those freshly grilled delicacies out in the open without the annoyance of dirt or bugs.
Pop-up Screen Tents: Think of these as your flexible friends. Quick to set up, they offer instant shade or shelter, making them perfect for those spontaneous side trips.
---
Remember, every accessory, every piece of gear you add to your RV isn't just about utility; it's about enhancing the experience, making every trip memorable, and ensuring that every moment spent in the great outdoors feels like home.
Frequently Asked Questions
How do I ensure the best fit for my RV?
Consider measuring your RV's awning and comparing it to the specifications of the screen room. Also, opting for those with a universal fit can be a good option.
How do I maintain my RV screen shelter room?
Regularly check for damages and clean it using mild soap and water. Ensure it's completely dry before storage to prevent mold and mildew.
What's the best way to set up in windy conditions?
Choose a screen room with a steel frame for stability. Using additional stakes and guylines can also help.
Is a water-resistant roof necessary?
Yes, it offers better protection against both light and heavy rain, ensuring you remain dry and comfortable.
How much space do I really need?
This depends on how you intend to use the screen room. If it's for dining or hosting a large group, you'd need more space. Always consider your specific needs and if you want a separate room.
How do you measure an RV screen room?
To measure an RV screen room:
Length: Measure the length of your RV awning room, as this will determine how long your screen room should be. Extend the awning fully and measure end to end.
Width (or Depth): This refers to how far out the screen room will extend from the side of your RV. A common method is to measure from the base of the RV (where the awning is attached) to the end of the fully extended awning.
Height: Start from the ground and measure up to the awning's base on the RV. This gives an idea of the screen room's height, ensuring enough clearance.
Always consult the manufacturer's guidelines or product specifications when measuring, as some may have specific methods or requirements.
What is an RV screen room?
An RV screen room is an enclosure or addition that attaches to an RV's awning, providing extra outdoor living space that's protected from elements like sun, rain, and pesky bugs. Made typically of mesh material, it allows for ventilation while keeping insects out, offering a comfortable space to relax, dine, or socialize while enjoying the outdoors.
Can you add a screen to the RV awning?
Yes, you can add a screen to an RV awning. There are specialized RV screen rooms designed to attach directly to awnings, effectively converting them into screened-in living spaces. These screens come with zippers, Velcro, or other fastening systems that enable easy attachment and removal. They also usually come with stakes and ropes to anchor them securely to the ground, especially in windy conditions.
What is a Dometic awning?
Dometic is a brand known for producing various RV accessories and appliances, including awnings. A Dometic awning refers to the awnings manufactured by this brand. They are well-regarded in the RV community for their quality and durability. Dometic awnings come in various styles, sizes, and functionalities, catering to diverse needs of RV users. Some models may have features like automatic retraction, integrated LED lighting, and weather sensors.
Pro Tip:
For those on the fence about an investment, remember the most important factors: compatibility, durability, and usability. If you're keen on affiliate links to guide you to the best screen tents or the best canopy tents on the market, numerous RVing blogs and websites can provide comprehensive reviews and firsthand user experiences.
In essence, whether you're eyeing the lightweight screen house options or mulling over the heavyweight RV screen room enclosures, the right choice promises to redefine your RVing journey. Investing in the best screen houses isn't just a good idea; it's a game-changer.
Ensuring the Best Fit: Measure your RV's awning length, width, and height. Ensure these dimensions align with the chosen screen room's specifications. Products with a universal fit offer added convenience.
Maintenance Tips: Regular cleaning with mild soap and ensuring it's bone-dry before storing will prevent mold and increase longevity.
Windy Conditions Setup: Steel frame screen shelters like the Coleman Instant Screenhouse offer robust resistance. Additionally, secure with stakes and guylines for added stability.
Water-Resistant Necessity: Absolutely. It safeguards against unpredictable weather patterns, ensuring your comfort.
Space Requirements: This boils down to personal use. Whether it's for lounging, dining, or hosting, square footage matters. Remember, more square feet translate to more space, but also potentially a harder time with setup.
Measuring RV Screen Room: Always extend the awning fully before measuring its length, width, and height. Consider manufacturer guidelines to ensure accuracy.
Screen Addition to RV Awning: Most RV awnings, including the renowned Dometic awning, can seamlessly accommodate screens, transforming your awning into an entire room offering extra protection.
Conclusion: Making the Most of Camping Trips with the Best Screen Room Choices
As RV owners, we always seek ways to improve our experiences on the road. Choosing the best screen room for RV can make all the difference, providing extra living space, protection from the elements, and a closer connection to the great outdoors. So, embrace the elements, and remember, with the right choices, you can always enjoy the great outdoors with better protection. Safe travels!